PILOT WORKSHOPS - GROUPS - LITHUANIA - WORKS AND ACTIVITIES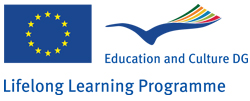 "This project has been funded with support from the European Commission. This publication reflects the views only of the author, and the Commission cannot be held responsible for any use which may be made of the information contained therein."


Beginnings of Lithuanian workshops >>>
Ornament Workshop. Workshop's teacher - famous Lithuanian artist Arune Tornau
Workshop "Vilnius' Palm Tradition and Biblical Meaning of Easter"
The group had also workshops on caligraphy and exlibris