BASICS – Bibliodrama as a way of intercultural learning for adults
Duration: 10.2011-09.2013
Funding: European Commission, Grundtvig Multilateral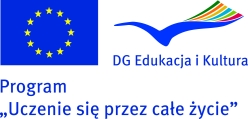 The BASICS project was developed to research the adaptation of Bibliodrama (acting out holy texts) for use as an interfaith and intercultural educational tool, to encourage dialogue and understanding throughout Europe and beyond.An initiative of the Bielsko Artistic Association Grodzki Theatre, BASICS aimed to expand upon some of the concepts expressed in The Council of Europe's publication, The White Paper on Intercultural Dialogue, May 2008.  Specifically, it was a practical interpretation of a conviction which the project partners all share, "Only dialogue allows people to live in unity in diversity".

The BASICS project pulled together established practitioners from the two main schools of Bibliodrama, Peter Varga from Budapest, Hungary, and Yael Unterman from Jerusalem, Israel, together with partners from Iceland, Poland, and Turkey, creating a consortium with the expertise and the audiences required to develop innovative new curricula aimed at enabling beneficiaries both to explore their own faiths, and to better understand other beliefs and believers, their similarities and differences, and the place of different cultures within a united Europe.
By bringing together universities, artistic institutions, social organisations, and adult educators, the BASICS project produced:
–  Innovative teaching curricula for the implementation of bibliodrama as an educational tool serving interfaith and intercultural dialogue (published in 5 languages)
– An accompanying DVD, showing the processes and their outcomes as a complement to the curricula.
–  National pilot workshops, publication launches.
–  An international conference in Kraków and Grundtvig course in Istambul in 2013 to promote the methodology.