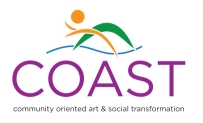 COAST – Community Oriented Art and Social Transformation

Duration: 07.2011 r. –  06.2013
Funding: European Union, Culture Programme
COAST linked four European partners to provide a platform for the creation of original theatre with socially excluded and marginalised people. One of the key issues for all countries involved was that of migration; the impact on host communities of new arrivals, the social and economic pressures which result in people leaving their home and 'crossing borders,' the difficulties and dangers of being a 'stranger in a strange land'. Five new plays were created and performed within their own countries. They were then also presented for the benefit of partners and the wider public at the COAST International Festival of Community Theatre Festival in Bristol in March 2012. Grodzki Theatre's engaged a strong team of 15 persons with disabilities aged from 22 to 70 to prepare a story on migration and missing home with large puppets made at our Occupational Therapy Workshops.
The ingenious idea of this production is to use puppets instead of performers as main characters. Everybody within the group is busy and all feel important. They all admit how strong their relationship with their puppets is. Asked if they would prefer to be on stage with the puppets or without them, their answer was unanimous that they prefer to work with the puppets so they are not themselves exposed on stage and, moreover, have the privilege to induce life into something and make it alive.
A really touching moment in the play was at the end when, the group of deaf people created a powerful and emotional moment translating the lyrics of the song "Our Motherland" into the sign system having white gloves on their hands. As simple as this performance was, it was very powerful for the audience. Once again it is proved to us that less is more and images can say more than thousands of words.
Cristina Rotariu, Coast cooperation blog, 2012
Coast publication