Theatre Workshops at CIS 
In May theatrical workshops "Create a puppet – create yourself", organized as a part of the project in the Social Integration Centre of the Grodzki Theatre, were completed. A total of 12 people took part in five workshop sessions. Participants learned the technique of puppet building, created short theatre etudes and then presented them in front of the CIS audience.
Participants' statements show, that those workshops were an opportunity for creative activities, working on oneself and establishing deeper relationships with the group. Thanks to their joint work, participants naturally entered into mutual relations, enthused one another and got inspired by their own experience. The workshops enabled a labour on expanding many social skills. Finally, workshops gave participants space for their appearance and expression of oneself in a safe environment.
 "I enjoyed experiencing myself. I will try to fight, enter the group. Only colleagues, so it's easier "
Stwórz lalkę – stwórz siebie! Create a puppet – create yourself!
www.ccproject.art
Projekt jest realizowany przy wsparciu finansowym Komisji Europejskiej (program ERASMUS+/Partnerstwa Strategiczne na rzecz Edukacji Dorosłych). Publikacja odzwierciedla jedynie stanowisko autorów i Komisja Europejska nie ponosi odpowiedzialności za umieszczoną w niej zawartość merytoryczną.
---
PUPPETS AND PATIENTS. CC PROJECT IN DR JÓZEF BABIŃSKI SPECIALIST HOSPITAL IN KRAKOW
In January, February and March, as a part of the project "Create a puppet – create yourself", Grodzki Theatre conducted workshop classes at the psychiatric rehabilitation ward of the well-known hospital in Kobierzyn, Cracow. The workshop cycle included 10 sessions, the aim of which was to create paper puppets along with patients, and then to prepare with their participation some theatre etudes referring to personal experiences and stories of participants.
A total of about 40 people attended the classes, and more or less half of them participated in two performances presented to all patients and a few personnel members of the Ward. During the farewell session on 16th March, patients summarized their experiences and the classes' impact on their health and the course of therapy. None of the participants had an opportunity to work with a puppet before, although some of them took part in various theatrical activities. Most of the patients assessed the workshop process as interesting, engaging, bringing satisfaction and deeper insight into themselves, helpful in understanding and expressing their own emotions and illness, opening to others, allowing to break the blockades and fears.
There were, however, also voices indicating the lack of interest in the activities proposed during the workshops. Some patients were not able to find themselves in a work with a puppet and generally in theater activities and they abandoned classes during the course of the workshop.
To illustrate the actual results of the workshop process, the selected statements of the participants are worth quoting.
My life is mainly here, at the ward. Working with a puppet is a struggle. The beginning was a fun – creating a paper character. It was nice, light. But the performance itself was like a school-leaving exam. One of the most difficult things in my life. Battle of thoughts: to stand out and show my life through a puppet or not? I managed not to escape. There was the applause, so maybe it worked out.
I regret that there will be no more puppet sessions, even though they have triggered difficult, important emotions. It was difficult in the interpersonal sphere. We told our stories. I always wanted to do something in a theater, but I lacked courage. Thanks to the puppets I had the opportunity to fulfill that wish.
It seemed to me before the show that I could cope with it. But then it turned out that I was so very weak. However, I managed to focus on collecting thorns from the scene. I tried not to look at the audience, but I felt that they were gazing at us. There was a fight in us, I was very touched.
The second workshop group led by the Grodzki Theater as a part of the CC project began its activities at the beginning of March at the Social Integration Center created by the Grodzki Theater Foundation in Bielsko-Biała. We will be informing you about new searches and discoveries, as well as workshops in Scotland, Bulgaria, Italy and Lithuania
Stwórz lalkę – stwórz siebie! Create a puppet – create yourself! www.ccproject.art
CC project (2017-1-PL01-KA204-038462) has been funded with support from the European Commission. This document reflects the views only of the author and the Commission cannot be held responsible for any use which might be made of the information contained herein.
---
PERFORMANCE AT SWPS
On March 18, at the SWPS University in Warsaw, a performance by representatives of the integration theatre group Grodzki Theatre JUNIOR will be held, which will crown the defense of the diploma dissertations of students implementing social projects for non-governmental organizations.  GRODZKI THEATRE  JUNIOR will show excerpts from the spectacle "Birds of passage" and will promote the latest initiative of the Grodzki Theatre – an international project "Create a Puppet-Create Yourself" www.ccproject.art.  During the performance, funds will also be collected for the reconstruction of the building of Integration Theatre in Bielsko-Biała.
https://www.swps.pl/warszawa/aktualnosci/17145-teatr-grodzki-junior-na-uniwersytecie-swps.
---
GRODZKI TEATHRE IN GLASGOW – CC  PROJECT        
The third month of project "Create a puppet – create yourself! Theatre for social integration" was marked by the international training, held in Scottish Glasgow, where one of the initiative partners – The Citizens Theatre is based. On 4-9 December 2017 representatives (16 persons) of all partner organizations from Poland, Great Britain, Lithuania, Italy and Bulgaria worked together, learning, under the guidance of Grodzki Theater, methods related to puppetry art and psychodrama, that are useful in w education.
This workshop experience resulted in four puppet etudes which were shown to dozens of people on the last day of the training.
The training is of key importance for the completion of the entire enterprise because it provides the basis for all piloting educational programmes for 13 groups of disadvantaged adults – including the mentally ill, the unemployed, addicts, the homeless and immigrants. In January the pilots will start in Poland and Great Britain, and in the following months in Italy, Lithuania and Bulgaria.
The course of the workshops will be documented photographically and descriptively, and the materials gathered this way will be used by the partners in their final publication – a good practices compendium for educators.
Create a puppet – create yourself!
---
CREATE A PUPPET – CREATE YOURSELF! INAUGURATION OF A NEW PROJECT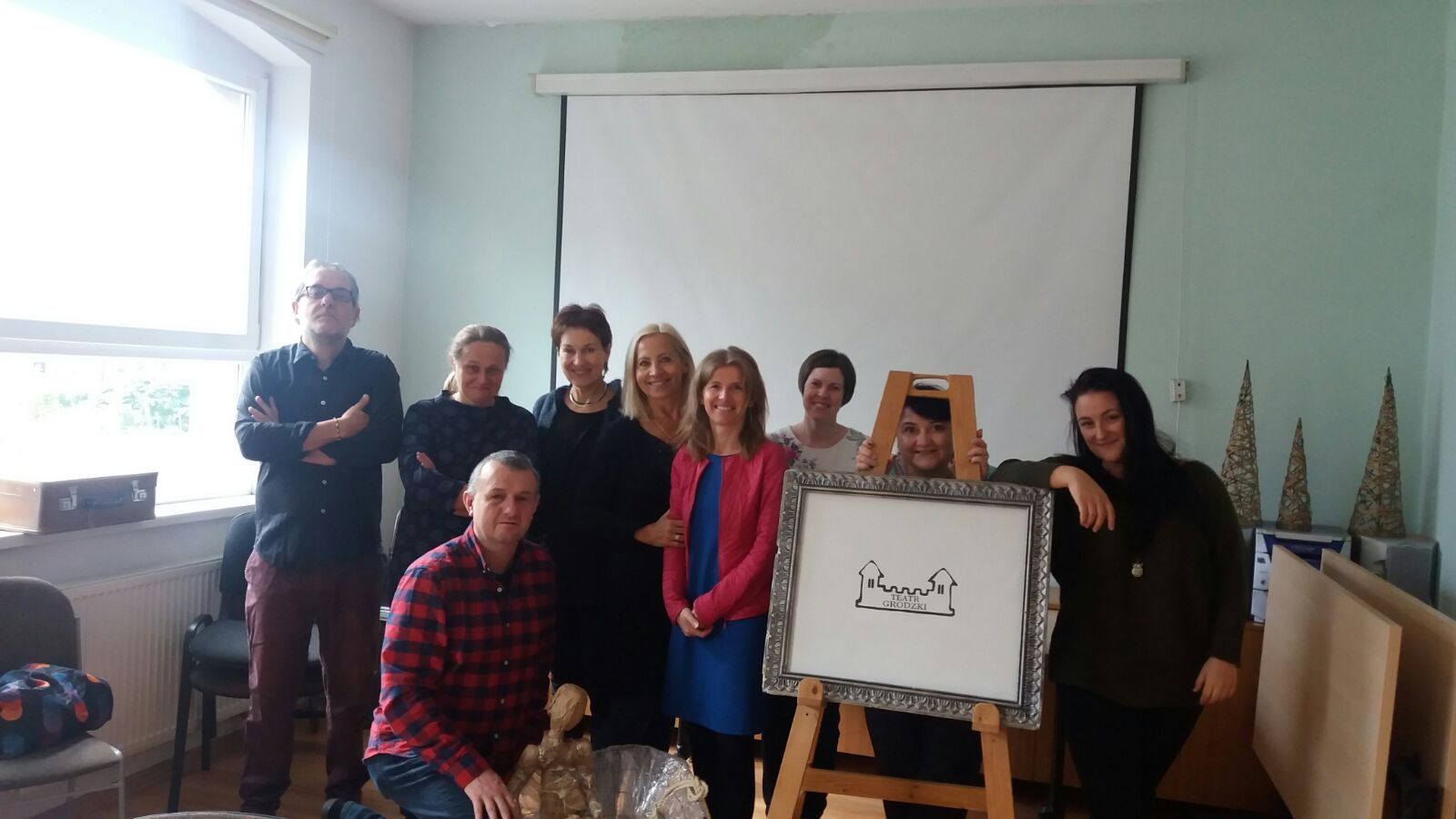 On October 1st we launched a two-year project in the frame of the ERASMUS+ programme  (Strategic Partnerships for Adult Education). The undertaking named "Create a puppet – create yourself!. Theatre for social integration" is implemented in cooperation with four organisations from various parts of Europe. These are: Citizens Theatre from Great Britain (Glasgow), Youth Centre Babilonas from Lithuania (Vilnius), Centro Per Lo Sviluppo Creativo Danilo Dolci from Italy (Palermo) and Know And Can Association from Bulgaria (Sofia).
The first partner meeting, inaugurating the  project, took place at the headquarters of Grodzki Theatre in Bielsko-Biała on 9-10 October. The executors of the undertaking discussed possibilities of puppetry art usage in broadly understood education of adults from groups facing social exclusion or endangered with it. The main goal of the project is to develop an educational programme facilitating personal development and overcoming of everyday barriers that are experienced by immigrants, refugees, prisoners, the homeless, the unemployed, the mentally ill. International training for educators in Glasgow is the nearest event in the frame of the project and will be led by Grodzki Theatre in December. In the following months all partners will organize pilot theatre workshops for their wards to test the impact of working with a puppet on the formation of basic social competences – teamwork skills, communication with the environment, expression of own needs, as well as taking up new educational and professional challenges.
Create a puppet – create yourself!
---
CREATE A PUPPET – CREATE YOURSELF!
THEATRE FOR SOCIAL INTEGRATION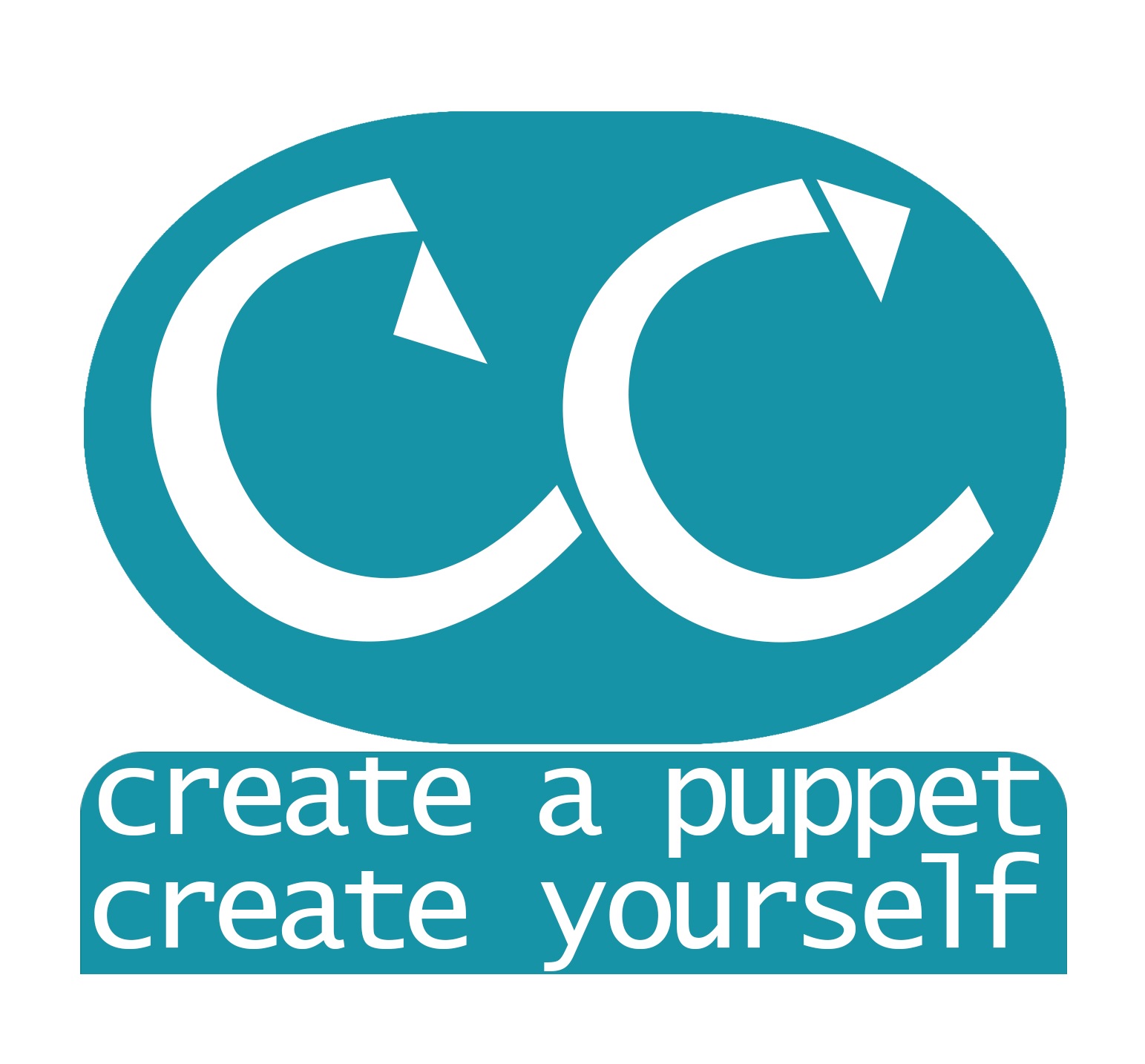 Duration: October 2017 – September 2019
This project has been funded with support from the European Commission.
This communication reflects the views only of the author, and the Commission cannot be held responsible for any use which may be made of the information contained therein.

Project Coordinator
Bielskie Stowarzyszenie Artystyczne Teatr Grodzki, Poland
Project Partners
Citizens Theatre, Glasgow, UK
Youth Centre Babilonas, Vilnius, Lithuania
Centro Per Lo Sviluppo Creativo Danilo Dolci, Palermo, Italy
Know And Can Association, Sofia, Bulgaria 
Puppets not only for children!
The CC Project aims at developing, testing and widely disseminating an innovative methodology based on creative approach in adult education. It is also focused on the needs of disadvantaged adult learners with a view to training social and civic competences. The choice of theatre and precisely puppetry art was made on the basis of the long-standing experience of Teatr Grodzki in using this specific art form in education and therapy. Even though puppet theatre is usually perceived as something childish, it can serve as a very efficient and attractive way of teaching adult students how to discover their aptitudes and abilities needed for a true social adaptation.
Through the activities planned we want to create the new educational and self-development opportunities for those who are socially excluded due to their health/disability problems, difficult economic situation, conflict with the law or other factors. We are aware of the fact that integration of socially vulnerable individuals and groups with society is a long and challenging process. It must involve an important phase of creating a suitable environment for making first steps towards changes.  People who have been isolated, often for a very long time, need to be first of all motivated to make an effort to step out. They need to see positive results of their actions and to feel rewarded. Such an experience can be a turning point in their life and lead to discovering own place in the community. We find puppetry art a surprisingly efficient tool facilitating this initial stage of social inclusion processes.
The project implementation of the CC Project has been planned in six steps.
Teatr Grodzki, the author of the project, presents their approach of using the elements of puppetry art and psychodrama techniques in adult education to other partners during the Short-term Joint Staff training XII.17
All the partners test the methods presented during the training, modifying them and further developing according to specific needs/constraints of their target groups (local pilot workshops – 25/30 days per partner). Everybody documents the working process in detail, paying special attention to the most interesting/representative case studies of adult workshop participants I-VII.18
A VLCE – good practice platform to be launched and used for sharing/exchanging teaching experience throughout the project I.18-IX.19
On the basis of the training experience further tested and confirmed during the workshops in each country the partners jointly formulate the methodological guidelines for the use of puppet theatre inspiration in adult education and social inclusion programs XII.17-III.18 (draft) VIII-XI.18 (final version)
Parallelly to the elaboration of methodological guidelines all the partners work on the more elaborated compendium – a presentation of five different teaching processes and their tangible results. The publication to be issued in 8 languages: EN, PL, IT, LT, BG+ DE, FR, ES and made available on the platform as Open Educational Resources (OER) VIII.18-VII.19
A number of dissemination events to be organized in the last phase of the project in all the partner countries VI-IX.19
Please visit our Project website
http://ccproject.art/
and find us on Facebook
https://www.facebook.com/Create-a-puppet-create-yourself-249808755553579/

This project has been funded with support from the European Commission. This communication reflects the views only of the author, and the Commission cannot be held responsible for any use which may be made of the information contained therein.
---