ARTES – ART as a vehicle for Education and Social inclusion
Duration: 01.11.2013-30.10.2015
Funding: Lifelong Learning Programme KA4 Multilateral Projects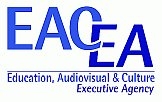 The ARTES project proposes to create a community of practice of European educators engaging with social exclusion through arts-based educational measures. The process of building, growing and sustaining the community involves the following:
Setting up on-line learning and communication environment using state-of-the-art community oriented technology
Creating knowledge management framework for capturing, organising and transferring validated methods for education and social engagement of the disadvantaged through art
Engaging arts educators working with the disadvantaged in the exchange of their approaches on the platform
Collecting material from across Europe on how key competences are fostered in arts-based educational programmes
Editing exemplary content as on-line learning paths giving an insight into effective learning processes
Disseminating and exploiting the methods and resources featured on the platform. Envisaged impact:

Raised professional skills of the members of the community in the use of arts-based methods
Improved key competences of disadvantaged learners, especially their communication skills, interpersonal, intercultural and social competences and cultural expression
Improved understanding of the educational value of inclusive arts on the part of public, corporate and private stakeholders.
Inauguration of the ARTES project
Seven organizations dealing with education and the arts met in Bielsko-Biała from 25th to 27th November 2013, representing six European countries (Poland, Italy, the United Kingdom, France, Denmark and Hungary). The meeting inaugurated the creation of an international e-learning platform – a forum for exchanging good practices in the field of education and social integration through culture and the arts. The platform will be the main result of the co-operative partnership established during the "ARTES – ART as a Vehicle for Education and Social Inclusion" project coordinated by Grodzki Theatre Association. It is co-funded by the European Union Lifelong Learning Programme (Key activity 4 – Dissemination and exploitation of results), as one of seven European initiatives (and the only Polish one) chosen by the Commission out of seventy-four applications. The meeting was rounded off with a contact seminar organized at the headquarters of Grodzki Theatre Association, attended by Polish representatives of other international arts and education projects. Alongside the seven partner organizations, four organizations presented the results of their work: Gaudete Fundation from Katowice (the "Memory Exchange" project), Catholic High School No. 1 from Katowice (the "Connecting generations through expressions in the different arts" project), the W. Godynia Care Home from Cracow (the "INTEGRA" project), and the Rakowiec Cultural Centre from Warsaw (the "GUIA – Guide Us into Arts!" project).
---
A list of project deliverables:
---

ARTES PLATFORM – ART & EDUCATION www.artescommunity.eu Repository of successful EU projects. Insight into workshop activities. Description of useful working methods. Join the community of educators! Show your own achievements! See what the others do!
---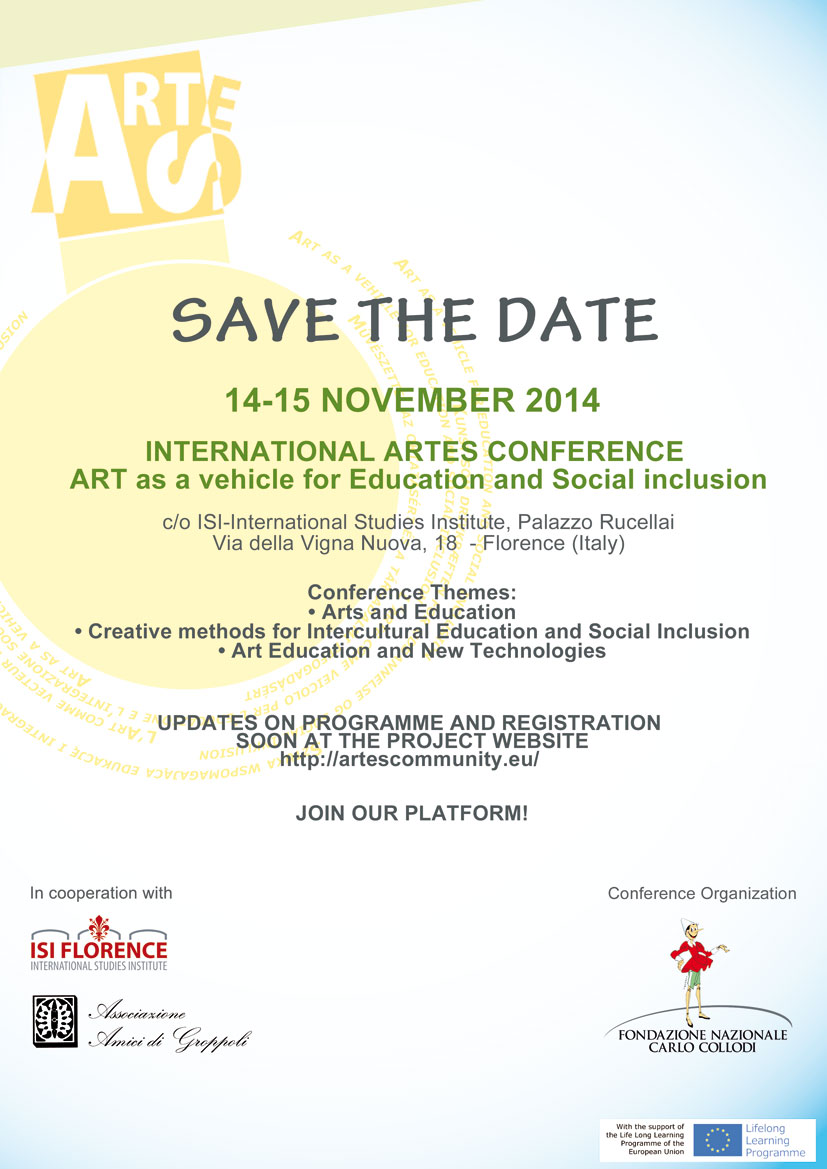 International ARTES Conference in Florence, Italy, 14-15 November 2014 We
invite you to take part in the ARTES Conference – Art as a Vehicle for Education and Social Inclusion which offers an overview of valuable methods from the European and international community of inclusive art practitioners, and the possibility to share experience and reflection during the workshops which are open to all the registered participants (admission subject to availability). Conference Themes:
Arts and Education
Creative methods for Intercultural Education and Social Inclusion
Art Education and New Technologies
Conference Venue: ISI-International Studies Institute, Palazzo Rucellai, FLORENCE – ITALY Conference Date: 14-15 November 2014 Detailed Conference Programme >> Registration required, no fee. Deadline for Registration is 30.10.2014. The participation in the conference is limited to the first 80 registered participants; Each workshop can admit up to 20 participants, priority in admission to workshops is given to conference participants. Please, find the link to the registration document >> Contact: Conference Organization: Fondazione Nazionale Carlo Collodi Via B. Pasquinelli, 6 I-51012 Collodi PT Italy Phone+ 39 0572 429613 Email: cinzia.laurelli@pinocchio.it
---
Art and Education – The Inseparable Sisters
"(..) a question arises: how are we using art in schools? Things don't look good. Usually it all comes down to music classes, and arts and crafts. But art should be one of the great ways of educating open minds and promoting noble sensitivity. Polish studies teachers rely on artistic texts but usually submit them to critical analysis. The work's "temperature" fades away, as do the reader's feelings and emotions. Very few teachers challenge their students to create a script or a creative story. In short, schools treat art perfunctorily.
But it doesn't have to be that way."
Art and Education – The Inseparable Sisters (pdf) >>
---