CMI2 Handbook – using the apps in practice
The Count Me In Too (CMI2) project has come to an end, bringing about outcomes that exceeded the expectations of project partners, who strived to create an innovative methodology for teaching and training people with special educational needs. Within the project, the partners created a generator of simple training apps and a bank of such apps and accompanying e-learning modules. During the last stage of the project, the partners also wrote and edited a Methodology Handbook (http://teatrgrodzki.pl//wp-content/uploads/2017/10/COUNT-ME-IN-TOO.pdf) discussing the training methodology, pedagogical and educational Key Competences for persons with special needs, the app generator, using the apps in practice, training for everyday living and how the App Generator can be used for training of young people from disadvantaged groups with learning difficuties. The publication is also very special, as its preface was written by Mr Ádám Kósa, the first deaf Member of the European Parliament using sign language to communicate. We believe that the handbook as well as the other CMI2 educational resources will create equal opportunities for people with learning difficulties and will help such people achieve professional success.
More info about the project available at https://www.cmi2.eu/en-gb/
---
Final Conference of the CMI2 ("Count Me In 2") Erasmus + Project
On June 8, 2017, in the Incubator of Social Entrepreneurship in Bielsko-Biala, Poland, there took place the Final Conference of the CMI2 ("Count Me In 2") Erasmus + Project. The international conference, organized by the Bielsko Artistic Association Grodzki Theatre, was focused on the "New Technologies in Vocational and Educational Training".
More than 40 local and international participants were present, including representatives of all the partner institutions: e-Learning Studios from Coventry, UK; Eldeberry AB from Stockholm, Sweden; GAIA Museum from Randers, Denmark; Symbiosis from Miskolc, Hungary; and BEST from Vienna, Austria.
Apart from the presentations given by the partners of the project, the participants had an opportunity to listen to two excellent lectures: one delivered by Dr. Maria Zając of the Warsaw School of Economics, who discussed the potential of modern technologies in education, and one given by Mr. Jaroslaw Jackowiak of IBM, who highlighted the role of artificial intelligence in education.
The Project Coordinator, Jolanta Kajmowicz-Sopicka of the Grodzki Theatre, spoke about partner-created mobile applications as an example of good practice. Then the partners presented selected apps and explained their specifics and a representative of the Swedish partner, David Powell, introduced the participants to eLearning Modules for trainers and instructors, which supplement the created apps.
At the end of the first part of the conference, Matthew Smith of the e-Learning Studios talked about the stages of creation of the intuitive app generator designed by his institution.
After lunch, the participants took part in a workshop session, creating their own apps under the guidance of Magdalena Brzezińska of the Grodzki Theatre and Matthew Smith of the e-Learning Studios.
The organizers and speakers wish to once again thank the participants for their interest and great commitment, both of which proved that the CMI2 Project was necessary and it brought the expected results by helping people with learning difficulties.
---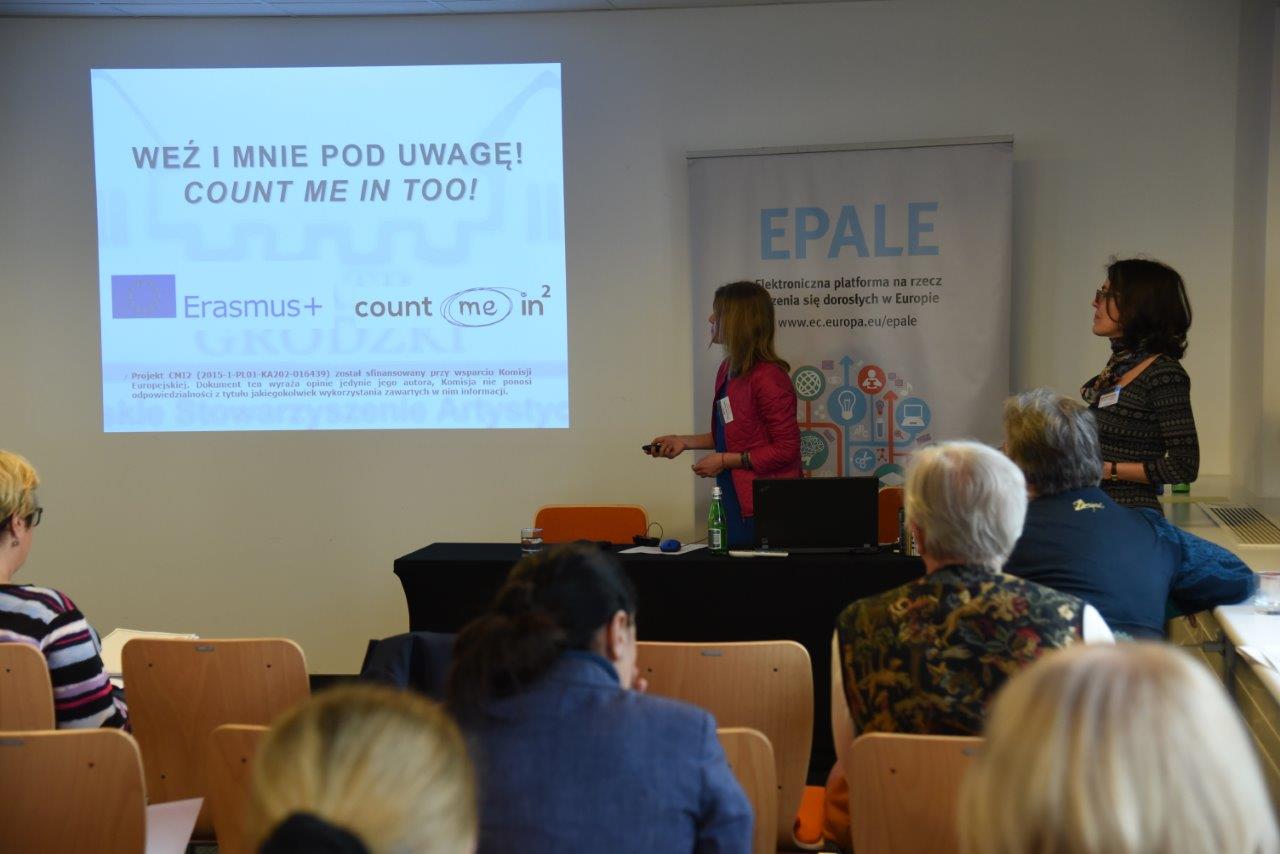 On April 4, 2017, CMI2 partners from Teatr Grodzki were invited to speak about the CMI2 project (cmi2.eu) and its flagship product, a generator of simple training apps for persons with learning difficulties, at the EPALE seminar in Warsaw. EPALE (Electronic Platform for Adult Learning; http://ec.europa.eu/epale/) is an initiative of the Directorate-General for Education, Youth, Sport and Culture of the European Commission. It is "a multilingual open membership community for teachers, trainers, researchers, academics, policy makers and anyone else with a professional role in adult learning across Europe."
The presentation of CMI2 partners was very well received, and it evoked a very positive response. Here is what the organizers shared with the CMI2 speakers: "We would like to thank you again for your participation in the EPALE Seminar. You have a wonderful and incredibly inspirational project that was very interesting for our participants. You discussed it with such passion that everyone was enchanted. Absolutely everyone talked about it. In the survey that was conducted after the seminar there were even additional comments (apart from the highest scores for you): "an interesting design and application", "inspirational", "a simple but interesting idea of technology use." Thank you very much for your cooperation. It was a pleasure."
Please, see EPALE platform for more information (in PL) https://ec.europa.eu/epale/pl/content/pierwsze-seminarium-epale-za-nami
---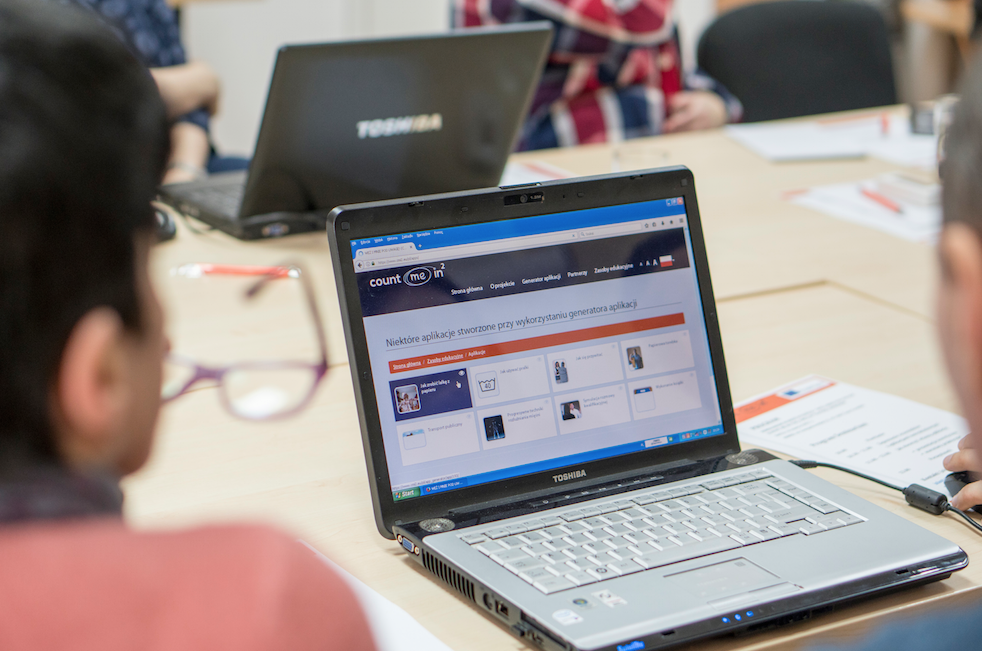 On March 16, 2017, at the seat of the Grodzki Theater at ul. Sempołowskiej 13 in Bielsko-Biała, a free workshop seminar related to the Erasmus + CMI2 ("Count Me In Too!") project took place. The organizers, Jolanta Kajmowicz-Sopicka and Magdalena Brzezinska, briefly outlined the genesis of the project and the stage it is currently at. They introduced the participants to selected partner-created training apps and complementary eLearning material, and then they presented the innovative CMI2 generator of instructional apps for mobile devices for learners with learning problems. Finally, the participants themselves, with hardly any assistance of the instructors, generated their own applications. Seven were created, and they varied from a tutorial on how to put on climbing harness (with the creators' audio commentary recorded during the seminar, directly in the generator), through medicine training, renovation of wooden objects, to patience training. The generator offers multiple possibilities!
The organizers would like to extend their warm thanks to those who benefited from their invitation and found out for themselves how intuitive and useful the app generator is. They would also already like to invite the interested parties to a conference and the next training, to take place on 6-8 June 2017. Detailed information will be provided at a later date.
Selected photos from the seminar can be viewed on Facebook
https://www.facebook.com/CountMeIn2/posts/1320021528078649
or Twitter: 
https://twitter.com/Count_Me_In_2/status/844961141063401472 
---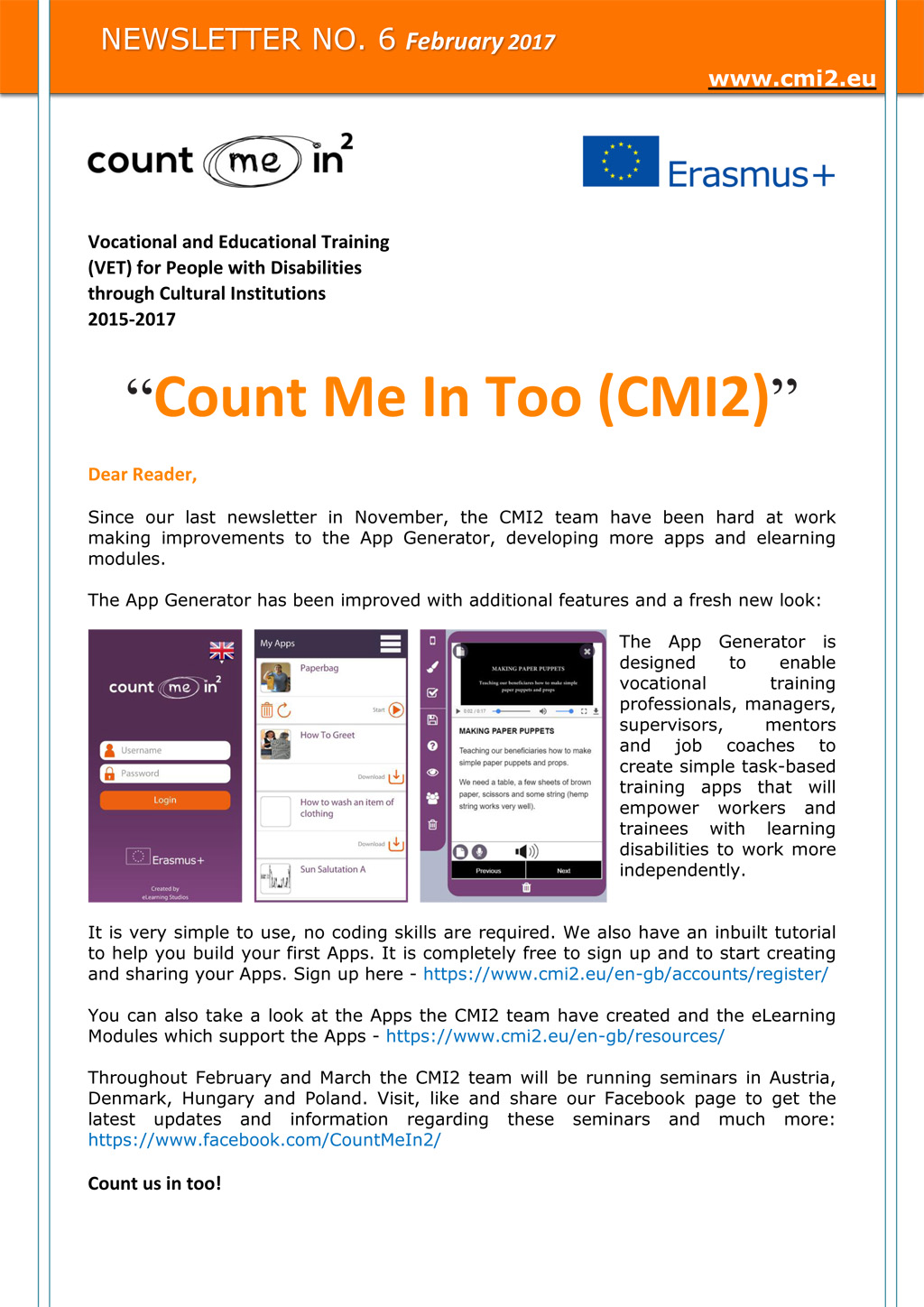 The partners of the Count Me In 2 (CMI2) project are constantly improving their generator of simple learning apps for people with learning difficulties. Currently, the six partner countries are also working on translations of apps and e-learning materials into national languages.
In the near future, eight apps selected by the partners according to the needs of their institutions and beneficiaries will be ​​available in each of the national "app banks". One of the apps selected by the Grodzki Theatre, for example, makes it easier for people with disabilities to travel on a bus (https://www.cmi2.eu/en-gb/app_generator/app/111/  ), while another is a simulation of job interview (https://www.cmi2.eu/en-gb/app_generator/app/72/).
We encourage you to get acquainted with our sixth concise newsletter, which contains additional information about the project.
---
 "Count Me In Too (CMI2)"  NO. 5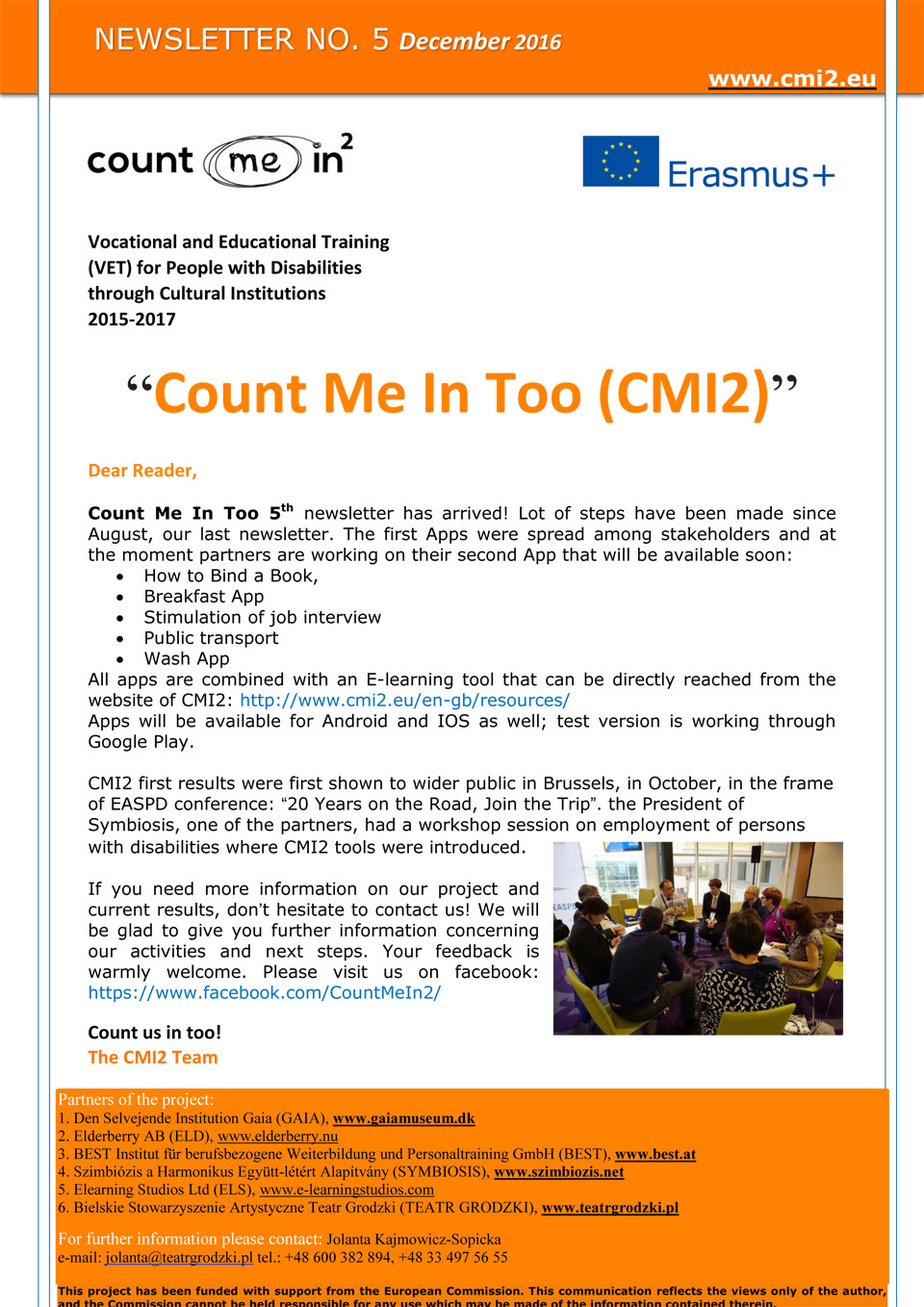 On this special day when children in Poland and some other European countries get up in the morning excited and look for the gifts St. Nicholas left in their boots, we also have a gift for you. It is the latest brief newsletter of the Count Me In 2 (CMI2) project. Among others, you will find there information on our latest applications, which will hopefully be useful for you, too. For example, the Grodzki Theatre is currently working on a bookbinding app.
As early as next week, the CMI2 project partners will meet in the beautiful pre-Christmas Vienna, where they will discuss the next stages of the project including the upcoming trainings and conferences, to which you will also be cordially invited.
If you would like to learn more about our project, please don't hesitate to contact us by phone or e-mail. We will also be grateful for any feedback. You are welcome to visit our website: https://www.cmi2.eu/ and our Facebook page: https://www.facebook.com/CountMeIn2/
---
  "Count Me In Too (CMI2)"  NO. 4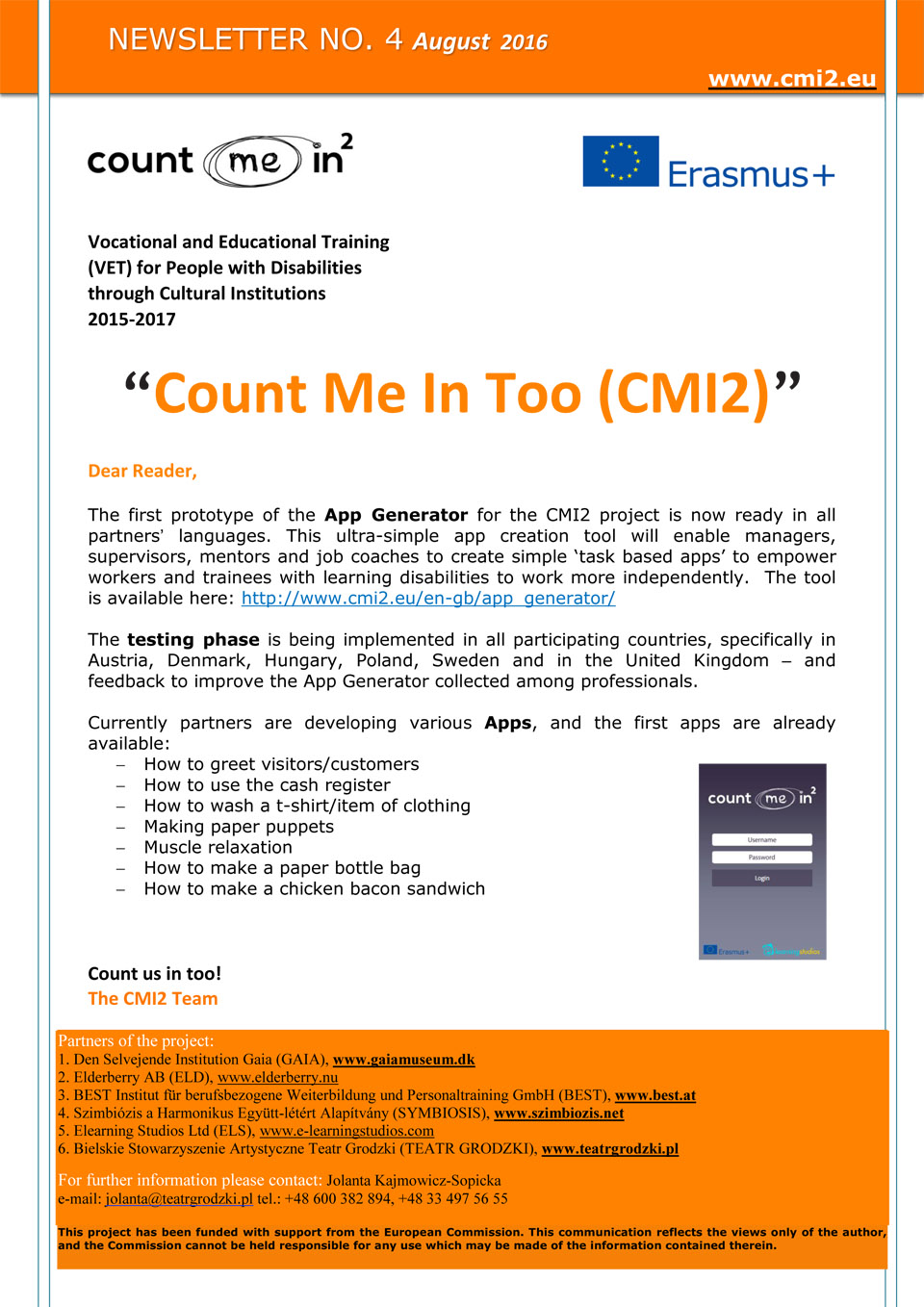 After the holidays, which meant intensive and very fruitful work for the CMI2 project partners, you are invited to familiarize yourself with our fourth concise newsletter.
Undoubtedly, you will be impressed with the pace at which our project develops, and the prototype of our product (a generator of simple instructional applications) will arouse your interest. A bank of six applications for people with learning difficulties has already been created. The CMI2 project partners are currently working on e-learning materials for trainers (to complement the applications) and also on further drafts of "mobile instructions" for people with disabilities.
 If you want to learn more about our project, we encourage you to contact us by phone +48 600 382 894 or e-mail jolanta@teatrgrodzki.pl. We will also be very grateful for your feedback.
---
  "Count Me In Too (CMI2)"  NO. 3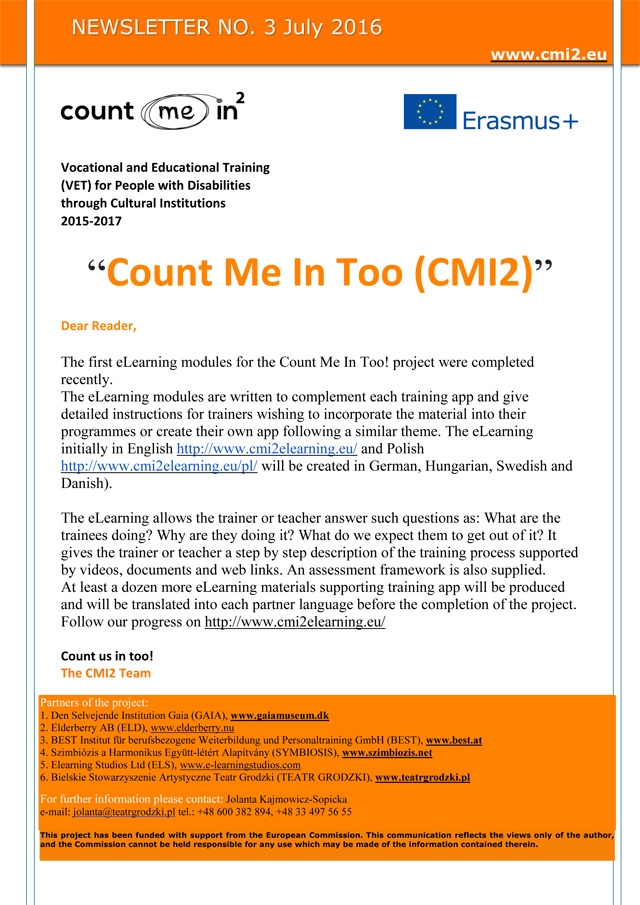 Despite the sunny summer and the vacation season, the Count Me In Too! (CMI2) project partners from Poland (Grodzki Theatre), Denmark (GAIA), Sweden (Elderberry), the UK (eLearning Studios), Austria (BEST) and Hungary (Symbiosis) keep working together to build a simple mobile app generator for people with learning difficulties.
At the end of June, the second fruitful meeting of project partners was held in Coventry, Great Britain. Currently, project activities are focused on the expansion of the bank of mobile apps (six of which will be created by the end of August) and on the creation of e-learning materials to supplement these apps.
The Grodzki Theatre and the CMI2 project team invite you to read our new concise newsletter. If you would like to learn more about our project, please don't hesitate to contact us by phone or e-mail. We will also be grateful for any feedback on the following e-mail address: jolanta@teatrgodzki.pl .
---
MAKING PAPER PUPPETS
A milestone has been reached in the COUNT ME IN TOO (CMI2) project! The Grodzki Theatre elaborated and recorded two language versions of the Making Paper Puppets instructional video, which is the base for a simple training app for people with learning difficulties. Both the English and the Polish version are subtitled.
Making paper puppets is a part of our art workshops in theatre and puppetry. The workshops can also be a component of vocational training, since making paper puppets equips our beneficiaries with desirable manual skills, self-confidence and problem-solving techniques, which will in turn promote their independence. The app can also be used by various project partners of the Grodzki Theatre (e.g. in the MEDART project) as part of sharing good practices.
By making paper puppets, workshop participants (18+ trainees with various learning difficulties) will gain practice and expertise in making paper puppets/dolls. As a consequence, they will be able to make the puppets in a skilled manner, without an instructor's assistance. This will empower them with greater self-confidence, autonomy and self-reliance. They will also be able to use the newly acquired skills to make their own works of art or to teach their own workshops in kindergartens or schools. The added value of making paper puppets with the use of a simple training app will be an increase in the trainee's IT skills, which will also make him or her more attractive for prospective employers. It will be possible to adapt the workshops for any age group, including children and the elderly. 
---
  "Count Me In Too (CMI2)"  NO. 2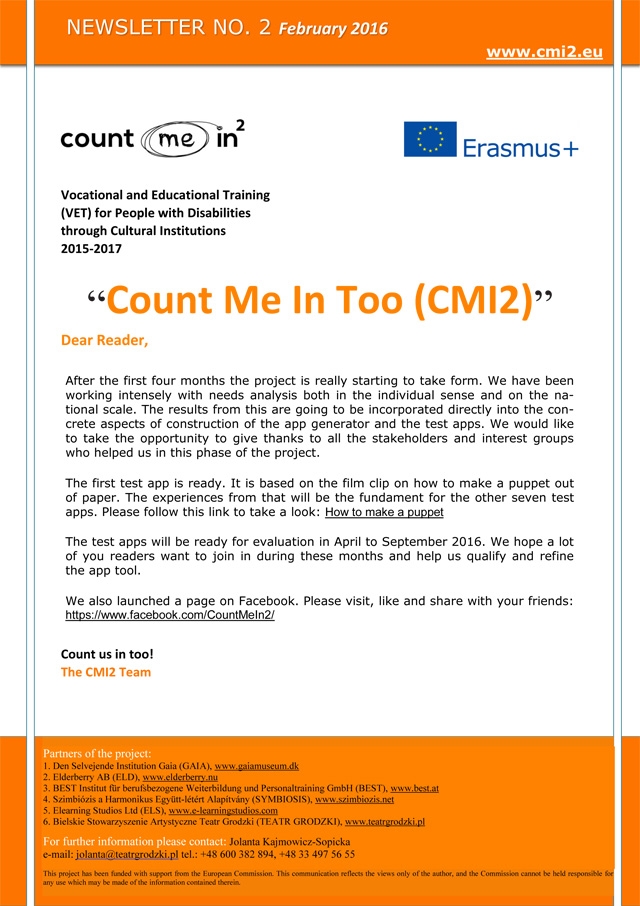 ---
 "Count Me In Too (CMI2)" NO. 1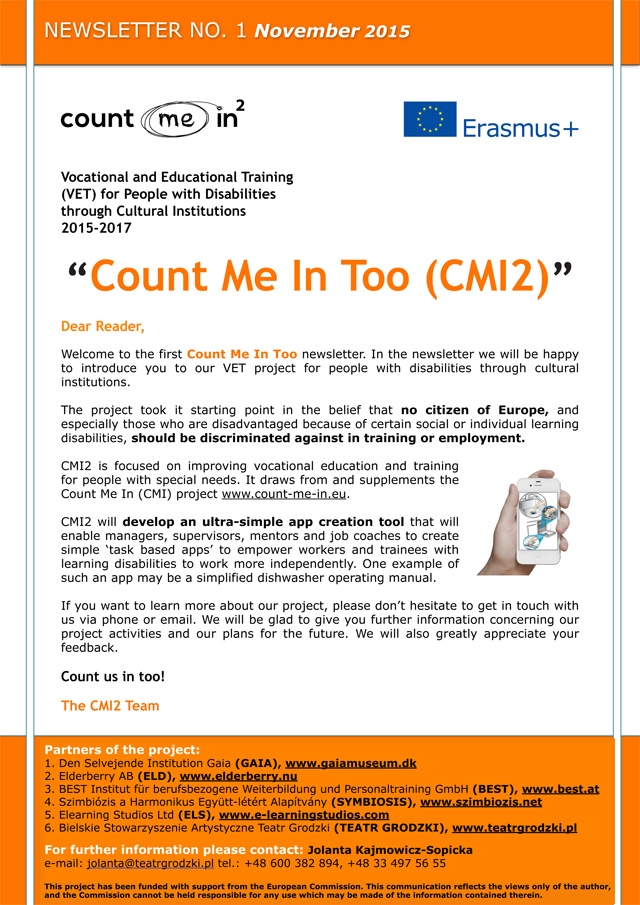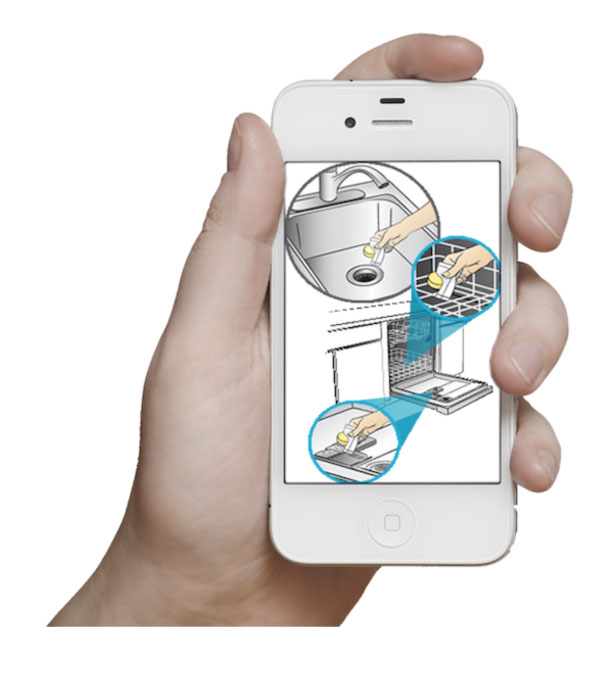 Welcome to the first Count Me In Too newsletter. In the newsletter we will be happy
to introduce you to our VET project for people with disabilities through cultural
institutions!
The project took it starting point in the belief that no citizen of Europe, and
especially those who are disadvantaged because of certain social or individual learning
disabilities, should be discriminated against in training or employment.
CMI2 is focused on improving vocational education and training
for people with special needs. It draws from and supplements the
Count Me In (CMI) project www.count-me-in.eu.
---

Duration: 01.09.2015 – 31.08.2017
Funding: European Union, ERASMUS PLUS Programme
Count Me In Too! takes its starting point in the belief that no citizen in Europe should be discriminated against in training or employment. In times of economic difficulties there is more than ever, a need for finding new ways to make better use of the diverse resources of organisations and people. This includes people who are more specially disadvantaged because of certain social or individual learning disabilities.
Since the arts and cultural sector became an independent topic in 1993 with the Maastricht Treaty it has grown significantly in its influence and extend. In the European context it has developed from being an area that was difficult to place anywhere to a strong and independent member of the family; a member that today is listened to and given authority. By promoting exchange, dialogue and mutual understanding the arts and cultural sector is now acknowledged to have an important impact on the European level of progress, economic growth and development of a skilled workforce. This new focus has been associated with the transfer of European labour force to other contingents and a realisation of how growth and economic development can be built on creative and innovative industries in society. In this perspective, the art and cultural sector has become essential for the development of new creative and innovative areas of growth in Europe.
This CMI2 project is necessary because it takes its starting point in the above progress and combines it with the inclusion of people who are more specifically disadvantaged because of certain physical, social and individual learning disabilities. The present-day labour market in Europe call for constant updating of knowledge and professional skills and the European Union states that lifelong learning is essential for everyone. It has therefore been of great relevance to study and discuss the efforts made in improving the vocational education and training for people with special needs, such as people with autism, ADHD, Asperger's syndrome and learning disabilities.
In the context of the arts and cultural sector, research study shows that pathways to being a part of and working in cultural institutions are unequal. Equally Challenge Unit in UK states that: 'Non-traditional' students find it more difficult to find work placements in the arts and cultural sector'. Work placements and VET through this sector are considered a vital way of gaining experience in the different areas, and they play a central role in increasing a student's employability.
Providing VET for special needs groups through the arts and cultural sector is an unstudied field in every EU country. Based on the needs analysis and experiences of previous projects and studies, the partners in COUNT ME IN TOO ! want to develop these practices and open up to a new understanding of educating these particular groups with the aim of finding for them a place in the world of work. This is relevant in all EU countries.
The project will develop an ultra-simple app creation tool that will enable managers, supervisors, mentors and job coaches to create simple 'task based apps' that will empower workers and trainees with learning disabilities to work more independently. There will be an instructional video and handbook for the tool.
The apps will help people with learning disabilities to work their way through a job related tasks:
Ready to go to work – hygiene dressing smartly
Basic Spelling
Basic Maths
Handicrafts – Making a puppet, candlestick or birdhouse
Social Competences, how to greet visitors / customers
This will be tested and used by each partner organisation with guidelines on ways to integrate the app into the workplace.
The project will also extend the CMI training material by offering versions in Polish, German and Hungarian.
By combining the newly designed app creation tool with the already established VETPRO training courses and eLearning material we will increase the usability and accessibility in many more EU countries.
Outcomes:
A training app generator allowing VETPROS and employers to generate simple training apps for people with disabilities.
The generator will be used to create the 8 training apps suitable for people with Autism, Down's syndrome and people with other
A set of training notes and training video on how to use the app generator
Expansions of a needs analysis and a good practice review with new examples and translated to each partner language
A publication with examples of innovative methodologies
Adaption of an l.T training course with modules on using the app generator
Cross-sector cooperation between VET and the learning disabilities and cultural sectors
An OER platform

---